Bringing Light to LACMA: James Turrell
Taylor Dent
Photo: James Turrell, Breathing Light, 2013, LED light into space, Los Angeles County Museum of Art, purchased with funds provided by Kayne Griffin Corcoran and the Kayne Foundation, M.2013.1, © James Turrell, Photo © Florian Holzherr.
A contrast exists between LACMA's permanent contemporary collection and "James Turrell: A Retrospective," a spectacle that celebrates the artist's almost fifty years of light installations. The transformed second floor of the Broad Contemporary Art building holds ten electronic projections, an ode to Turrell's minimalist aesthetic. There is no audio, no gimmicks and no breadth of history required to admire Turrell's trajectory; participating in the florescent effects begins and ends with a reliance on our visual perceptions. "Generally, we use light—we don't really pay much attention to light itself," says Turrell. "That's my interest: this fascination with light and how we come to light." I remember my own shock at realizing that an entire room had, within seconds, transformed from a cool blue to an absinthe green before reverting back. Illusion or reality?
We assume our senses accurately represent the world. Turrell reverses this misconception by revealing the faults of our perceptions through color modulations. The culprit of my surprise was Raemar Pink White (1969).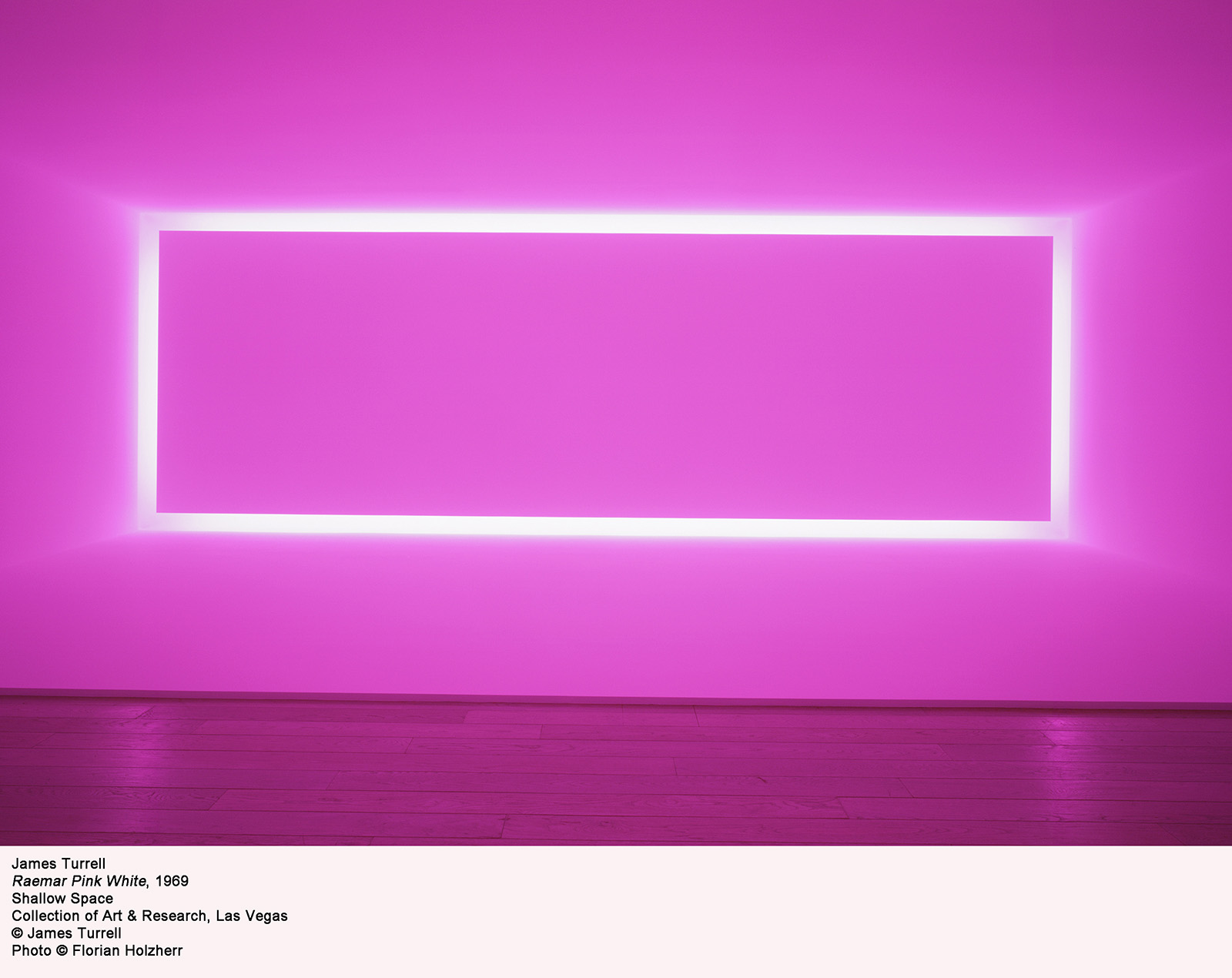 On first examination, Pink is a rectangular installation occupying an entire room. The isolation from outside stimuli and discouragement from practicing anything but "just watching" the florescent tubing initially seemed like a scene from a 1950s sci-fi. Fellow guests exchanged confused glances before quickly departing. If you choose to stay and admire the work, the experience can be disconcerting. You'll literally turn off the functions of your senses, save for your eyes and the part of your mind that wonders: what am I looking at? With prolonged exposure this alienation becomes almost meditative, or at least the viewing becomes internally focused. And once your experience is ended by choice (or by acknowledging the constant shuffling of the crowds), after walking out you'll notice that the neon bathed room warps the hues of Raethro Blue (1969) into a green fortress. Fellow viewers at LACMA asked security guards how long the lighting timer ran on Blue, and the answer elicited both amused (and slightly embarrassed) smiles. How rarely do we embrace being genuinely surprised in the gallery setting?
The exhibition does not provide answers, instead offering up Turrell's further ambitions. The remaining installations are flanked by esoteric plans for the Roden Crater, a new site-specific project being developed within one of Arizona's extinct volcanoes. A documentary, models and blueprints are designed to generate interest for this masterpiece-in-progress. It's a dynamic undertaking unmatched by contemporaries, but it's impossible to derive the same stimulation from the framed plans of this resource-heavy project as from the real artworks.
Roden Crater is the only "new" addition to the collection. Most works originated during California's Light and Space Movement of the 1960s, when the quest to transform immaterial light into a workable "material" was explored. The few installations created in our current millennium continue to demand viewer's observation skills but do not deviate in structure or method from the '60s originals.
However, the staying power of Turrell's neons is unmatched. Much of the Turrell experience comes from the unexpected pleasure of feeling outwitted in the gallery space. Some installations leave us impressed by their simplicity, others by their all-encompassing structure, and others involve us directly. Each installation offers us the opportunity to observe what we take for granted every day: light and the transformative experience it offers.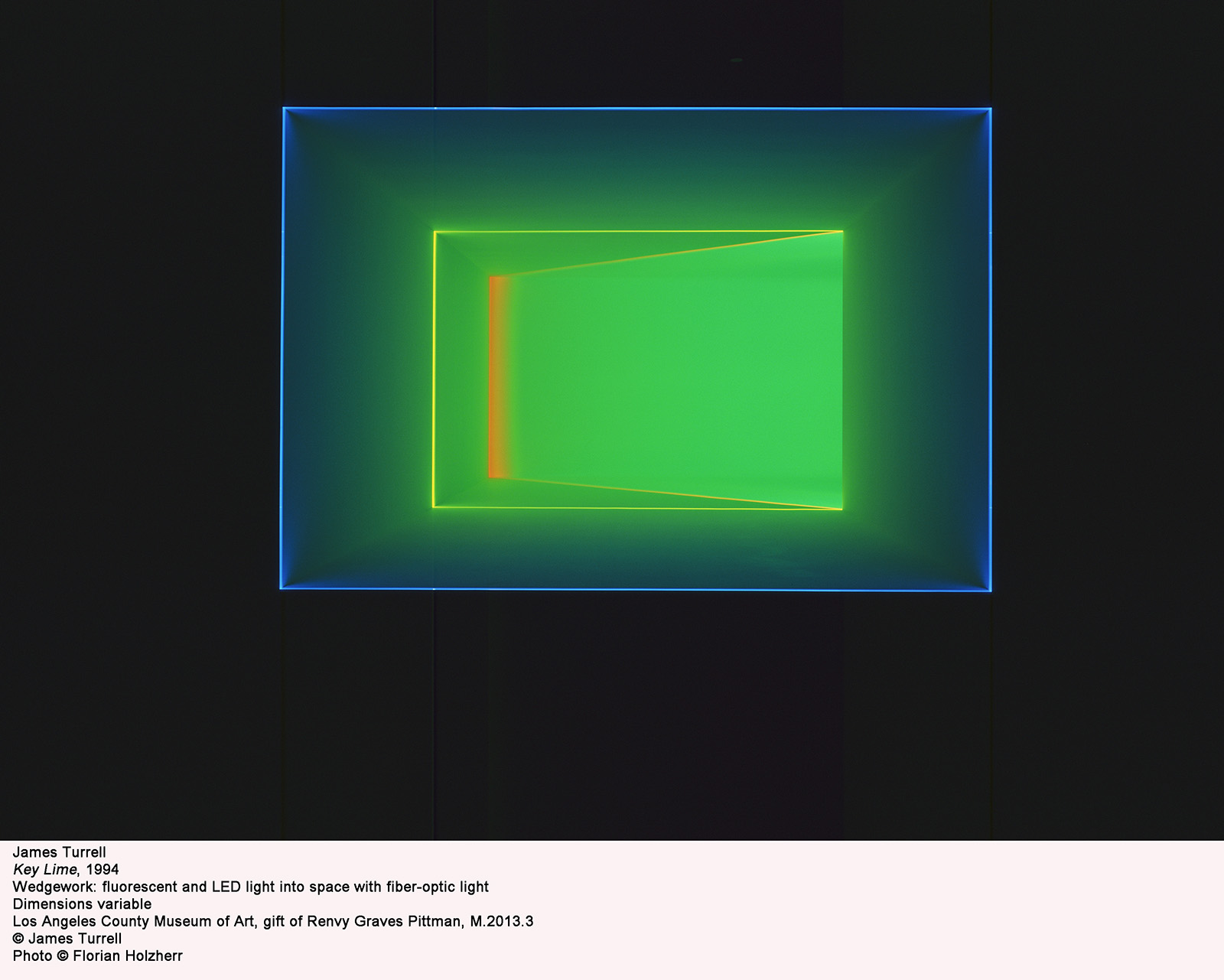 JAMES TURRELL: A RETROSPECTIVE is on view at the Los Angeles County Museum of Art through April 6, 2014. More information is available here.